Another perk to Gateway: lots of places to safely pull off.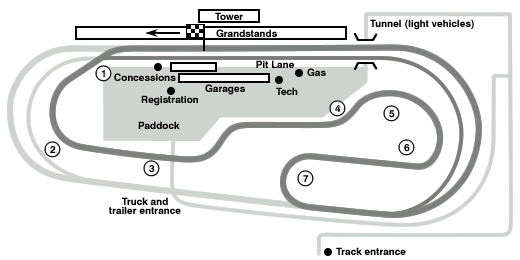 Turn 1/2 are problematic if you're really pushing the limit and are jokingly called "shipping" and "receiving". If you have any doubt about going too hot into 1, you can safely not turn and slowly take the oval. It's a lot better to chat with a steward than medical (or the poor flagger behind the tire wall at 2!). Don't half-ass your choice either because there's a not-cushy point separating the oval from the road course: take the turn or bail to the oval.
If you have mechanical problems, especially after pit out, you have two good options to get back safely. There's a huge opening in the concrete wall driver's left just past pit out (around where the 1 is on the above map) so you can swing off track there. Alternately, the crossover just before turn 3 is a safe left turn into the paddock.
Check your mirrors before committing to turn 7!
Passes are very common out of 6 and novices are very good at car-car contact at the hairpin. Nothing is worse than a turning collision before a concrete wall.
If you need to bail from your car, the safest places generally hug the lower oval wall. That's driver's right of turn 3 (especially near the crossover), driver's left before turn 7 (don't hit the workers' portapotty!), and hugging the pit wall driver's left on the opening straight (racing line is usually driver's right for a wide entry into 1). If you're not going hot at 4, go straight into the grass and try to park behind positive protection (there are utility boxes with concrete barriers, plus a worker station on the interior of the turn at 6).
Incidents are most frequent at 1/2 and 7.
_________________
1999 Mazda Miata Sport . . . . . . . . . . . . . . . . . . .
2003 Dodge Intrepid ES . . . . . . . . . . . . . . . . . . .