This is too important to the LeMons guys to tuck in another thread. And I don't know all the members of the team.
If there's any other LeMons team out here you can have this if Chip's team isn't interested. (or whoever is the team leader)
Some free parts below in the thread below...
viewtopic.php?f=7&t=1570&start=40
More parts pics, some mentioned in the thread above, I'll comment on them later...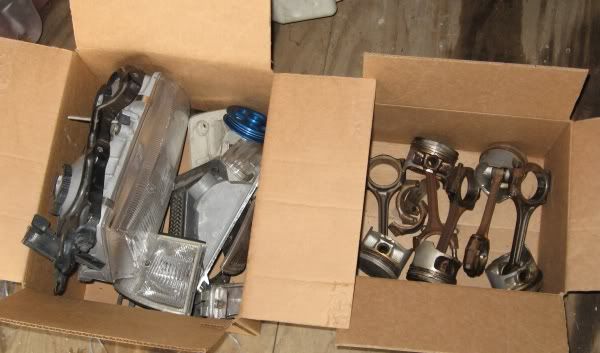 Some of the lights mentioned before. Plus four D16A6 pistions, rings are torched though.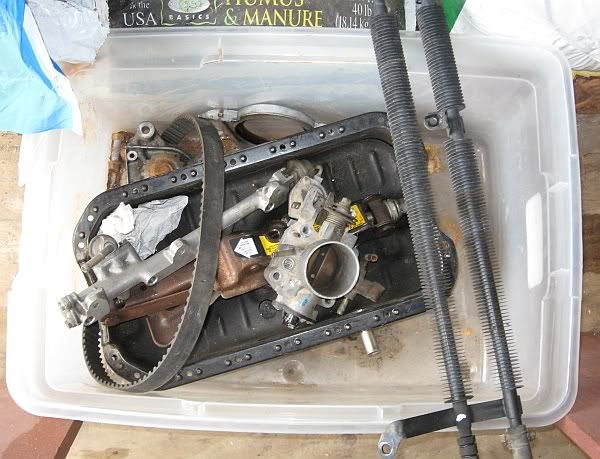 Parts mentioned in the other thread. There is a SOHC cam timing gear under the pan. (it might be the same as a DOHC gear as well?)
Spare crank anyone? I don't know the condition of the block, this bin was backed in a corner so I just held the camera over it. I don't believe that's a D16A6 manifold, but I could be wrong. From this angle I can't tell. It does have four injectors though, so it would point in that direction.
LeMons or Road Racers only (for now). I'll post in Road Racing after Monday.
EDIT: If LeMons doesn't want any of the stuff, I'll edit this post to say it's available if anyone here wants it. I said Road Racers because most of this stuff is "good enough" or "not pretty but it works". Most of the mechanical has been beat on pretty hard, so I don't think most SOLO guys would want it unless you have a dedicated car. But I could be wrong.
Last updated 060809. Reason: Custom Civic/CRX seat bracket cut up for my Acura.